Groups¶
Groups are used to define roles for specific sets of users in the Kasm Server. By default there are two groups created by the system, the Administrators group and the All Users group, the All Users group is the default group for every user where statewide settings can be set.
Groups can be used to specify Kasm images and settings for different sets of users. For example, you may have a custom image for developers with pre-installed developer tools. You can tie that image to a group. You can define settings for that group, such as enabling bi-directional clipboard.
Create Group¶
Steps to create individual groups for sections of users.
Select Groups tab from navigation menu

Select Create New Group from the top right of the table

Specify Group properties listed below
Group Properties¶
| | |
| --- | --- |
| Name | Provides the name of the group |
| Description | Provides the description of the group |
| Priority | Sets the priority of the settings over other groups |
| Is System | System level group that cannot be deleted |
| Is Ldap Group | Specifies whether this group is part of an LDAP group |
| Group DN | Specifies the LDAP Group Domain Name |
There are cards in the view group page that allow for the selection of its users

and selecting images that are available to that group.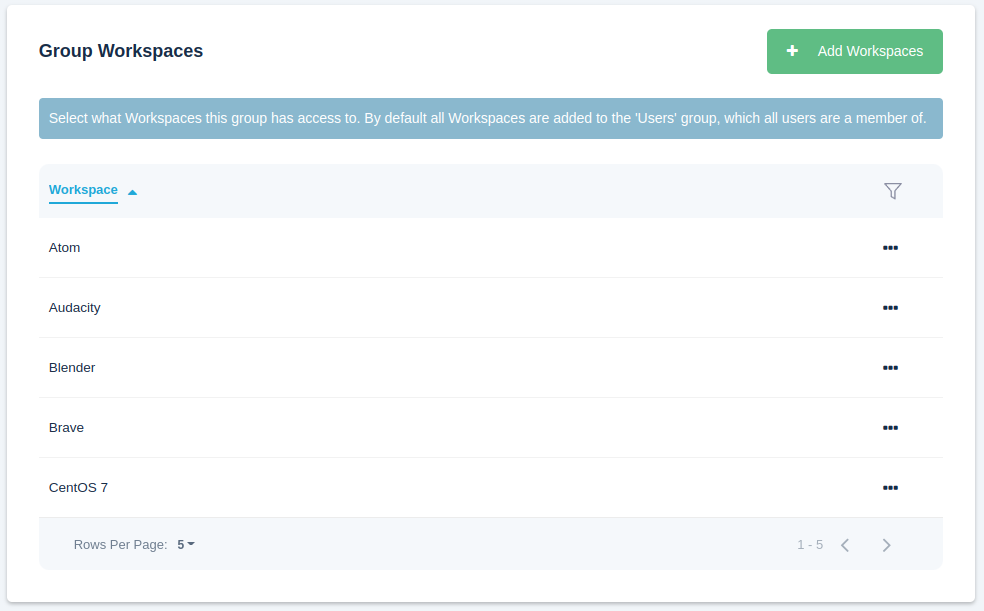 Group Settings¶
Group settings may be changed for the specific group by selecting the groups tab, clicking the edit icon on the desired group and the Add Settings button in the Group Settings card. There are delete setting and edit setting icons to the right of the Setting. If a user belongs to mulitple groups, the setting on the group with the lowest priority takes effect. For settings like volume_mapping, all settings are combined from all groups a user is a member of.

administrator

Allows users to see and edit all attributes of the Kasm application.

allow_kasm_audio

Allow audio streaming for a Kasm.

allow_kasm_clipboard_down

Allows users to paste text from the Kasm to their local computer.

allow_kasm_clipboard_seamless

Allows users to copy and paste text without using Kasm control panel.

This feature is only available on Chrome and Chromium-based client browsers

allow_kasm_clipboard_up

Allow users to paste from their local computer to the Kasm.

allow_kasm_downloads

Allow users to download files from a Kasm.

allow_kasm_microphone

Allow microphone passthrough to a Kasm. When enabled, users can pass their local microphone through to the Kasm session.

allow_kasm_sharing

Allow the user to share access to Kasms with other users.

allow_kasm_uploads

Allow users to upload files to a Kasm.

allow_persistent_profile

Allow the use of persistent profiles if configured on the Kasm Image. See Persistent Profiles for details

allow_point_of_presence

Allow the user to use point of presence features for certain Images.

auto_login_to_kasm

Sends users directly to kasm using default image after login

chat_history_messages

The number of chat history messages to show when a new user connects to a shared Kasm. Set this value to 0 to disable showing chat history.

default_image

The default Image used when the /go url is called. The system will create a Kasm with this Image if one if one does not exist. If the user already has a Kasm created with this Image, the session is resumed

enable_totp_two_factor

Enables two factor authentication for group. Users will be prompted to set Key on next log on.

expose_user_environment_vars

Expose KASM_USER and KASM_USER_ID environment variables inside the Kasm.

idle_disconnect

Disconnect the Kasm connection if idle for this long. Time specified in minutes.

kasm_audio_default_on

Default to audio enabled on Kasm start

keepalive_expiration

The number of seconds a Kasm will stay alive unless a keeplive request is sent from the client.

lock_sharing_video_mode

Locks video quality to static resolution of 720p when sharing is enabled. Recommended for best performance.

max_kasms_per_user

The maximum number of simultaneous Kasms a users is allowed to provision.

run_config

Specify arbitrary docker run params.

usage_limit

Limits the total number of hours a user or group can have running sessions.

Type

Per User - Each user of the group has their own limit.

Per Group - All members share the usage limit.

Interval

Daily , Weekly , Monthly , Total.

Hours

The number of hours allowed during each interval.

volume_mapping

Map a local server directory to Kasm. Details available in the Volume Mapping Guide

web_filter_policy

Enabled web filtering and sets the Web Filter Policy to be used.