Client Side
The proceeding sections cover KasmVNC's web native client, which can be accessed by using most modern browsers.
System Requirements
Chromium based browsers such as Google Chrome, Microsoft Edge, Brave, and Chromium are preferred. Chromium based browsers support all features of KasmVNC and perform the best. Firefox is also supported, however, some features do not work. Safari is not supported when connecting directly to KasmVNC, due to the lack of Safari's support for Basic Auth on web socket connections.
The recommended minimum compute requirements are 4 CPU cores and 4GB of RAM. While the client can be used on systems with less resources
Authentication
KasmVNC utilizes HTTPS Basic Authentication. When users connect, their browser will automatically prompt the user to login. Subsequent connections will not prompt the user to login, unless the login credentials are no longer valid.

Control Panel
The KasmVNC client control panel provides the user with many options to control and interact with their session.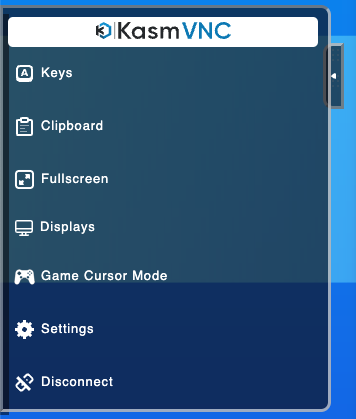 ```{figure} images/stream_quality.png :align: center :width: 25%

Stream Quality

### Keys
The keys panel provides users with click buttons for common control keys such as Control, Alt, Esc, and the Windows key. This is useful for users on mobile devices without a full keyboard. In addition, this panel provides users with the ability to pop the on screen keyboard on mobile devices.

:align: center
:width: 25%

Control Panel - Keys